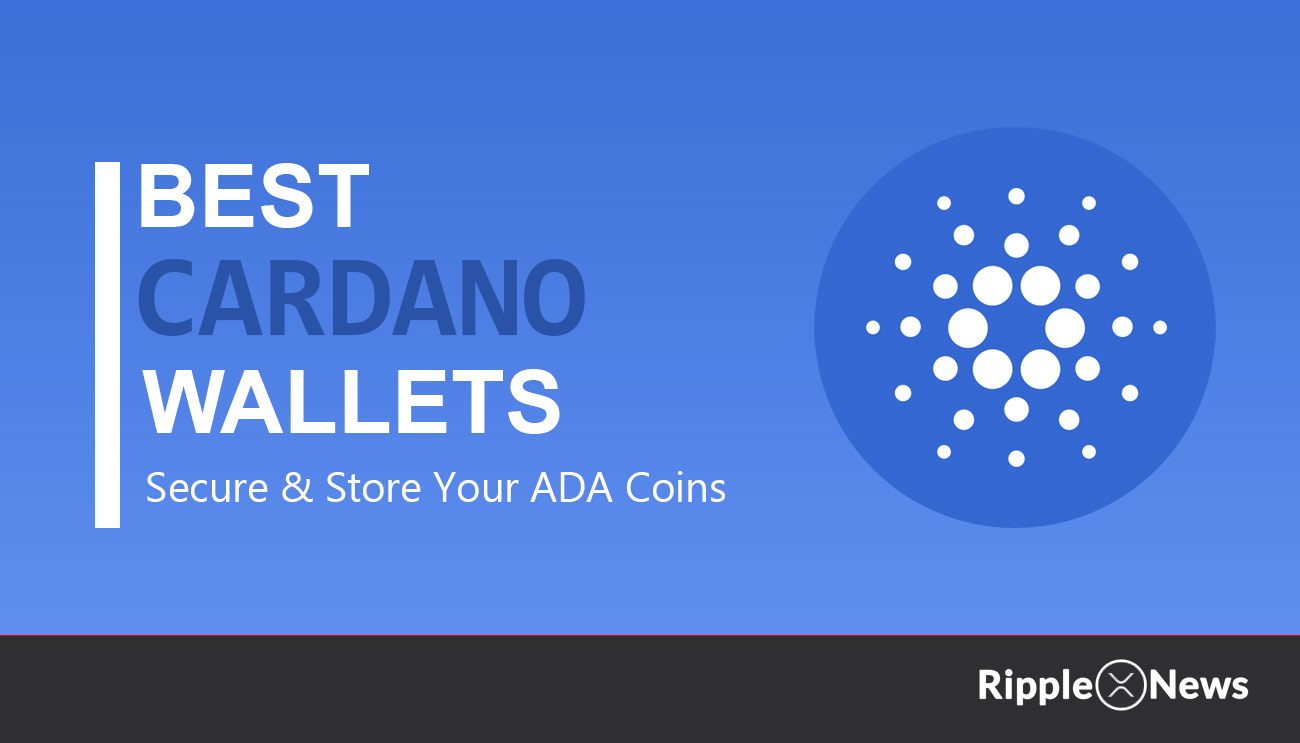 Best Cardano Wallet – Top 8 Cardano Wallets (ADA) in 2021
So today we are going to explain you all about the best Cardano wallets of 2021. Which wallet can you use to store your ADA cryptocurrency? The best available options are found in the markets in terms of speed, high user interface and design and, more importantly, their degree of security. We will also discuss the underlying characteristics of all the supported wallets so that you can easily form an opinion. Let's get started.
The famous ADA coin
The cardano project was launched in 2015. The man behind this project was Charles Hoskinson, who is also the co-founder of the Ethereum network. The main goal of Cardano is to create more powerful and efficient blockchains than old blockchains like Ethereum. In short, cardano can help you transact cheaper and faster.
The founders of cardano believe that cardano is the third generation blockchain while Ethereum and bitcoin are the first and second. There is however a slight change in the meaning of the terms. Cardano is the Blockchain used to perform transactions while ADA is the coin of that particular Blockchain. Much like Ethereum, Cardano Blockchain also helps people create smart contracts. Cardano networks are decentralized. This means that the Blockchain is not regulated by a single authority. Instead all transactions and smart contracts are carefully vetted by the community.

Best Cardano Wallets 2021

Below is the updated and complete list of Cardano wallets where you can easily store your Cardano coins (ADA)
1. Ledger Nano S
(Recommended)
The Nano S device is one of the preferred crypto hardware wallets when it comes to security and efficiency. The device is seen as a fluid connection between the Blockchain world and the user.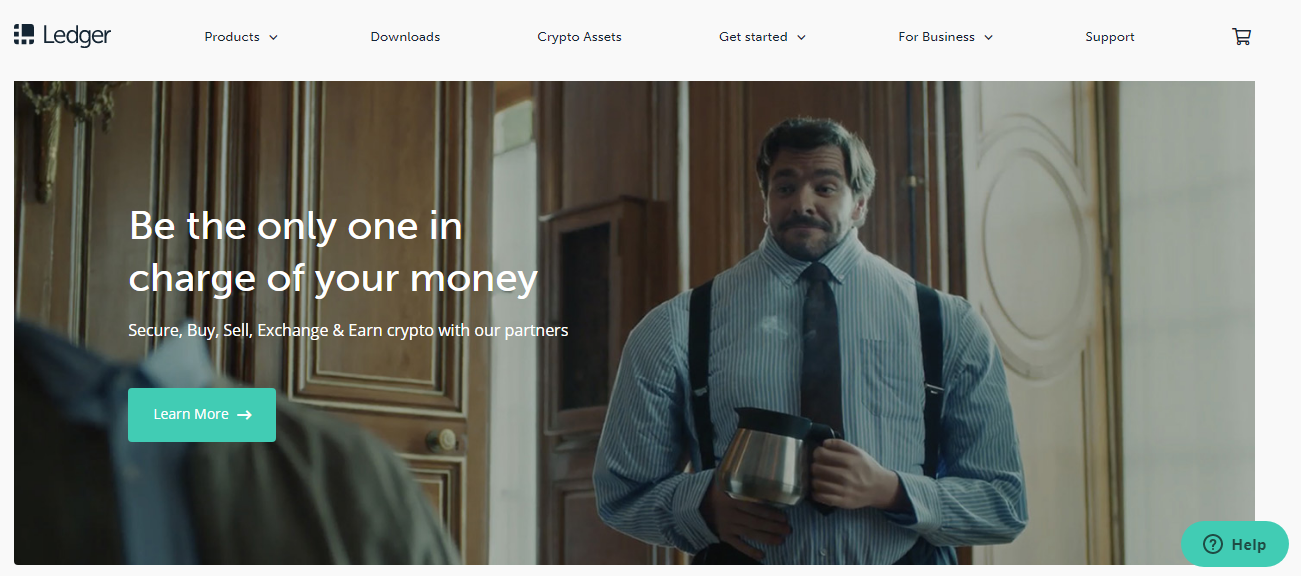 The wallet supports over 1,100 tokens and coins. The device does not compromise on safety. It stores all your private data in chunks. The interface of the device is simple, elegant but complete. You can easily estimate your live transaction fees before making an actual transaction.
Due to its remarkable security, the device is impossible to attack or hack with viruses. It provides multi-asset support. Users can store multiple tokens or coins using the same wallet you own.
The wallet provides you with an OLED display. This means that you can verify every transaction you make.
2. Trezor (hardware wallet)
Trezor one is one of the best widely used hardware wallets. The design of the wallet is elegant and comfortable to use. Wallets store almost all kinds of digital assets that hit the market.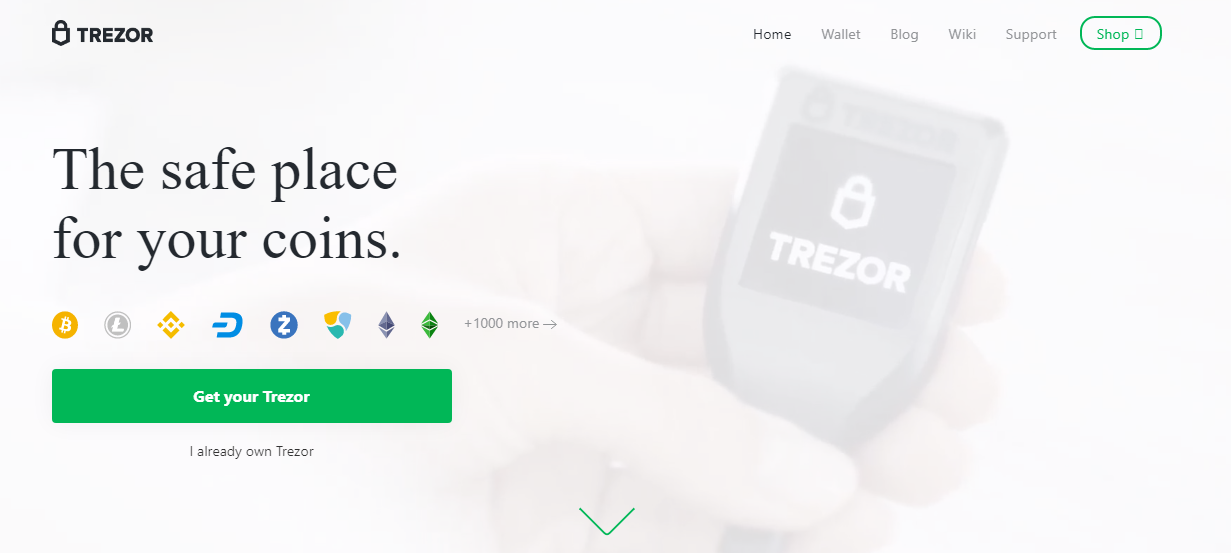 You can store your cryptocurrencies offline. The wallet security patches are up to date. Wallets store your private keys and confidential data offline so that no one can access them through the web. Although it is a bit expensive than Ledger devices, the features are worth using.
The wallet is quick and easy to set up. Due to the connection via USB cable, the device is not considered portable like other hardware wallets.
In Trezor, you can easily trade your assets through the built-in exchange without any middleman. Trezor is a bit expensive. Investing in hardware wallets is a bit under pressure if you are on a budget. There is no doubt that the team offers a high level of security which is not given at all.
3. Adalite wallet
Previously known as CardanoLite, the web-based lightweight wallet of the AdaLite wallet. The wallet is secure and fast for making transactions. You can use the Ada lite wallet to access your ADA coin in a number of ways. This wallet has been created with security as a primary concern in mind. Other than that, the wallet was meant to be user-friendly.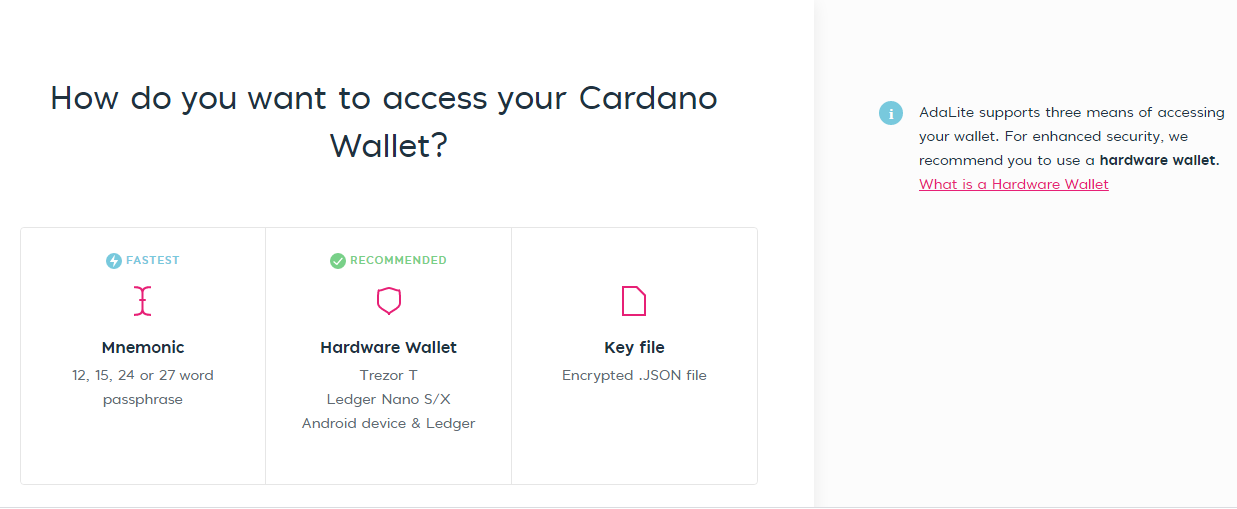 When you create a new portfolio, you are given a 12-word keyword phrase. If you've lost your password, this 12-step key can be used to access all of your funds and recover your account. AdaLite is a self-hosted wallet. This means that all of your private keys remain in your possession.
Even the wallets website does not have your data. Good news, hardware wallets like Ledger and Trezor devices are compatible with this wallet.
4. Yoroi wallet
The Yoroi wallet is designed by Emurgo, one of the main organizations behind the Cardano project. The wallet was originally released in 2018, a lightweight web-based wallet where you can easily store your cardano.
The Yoroi Wallet is available as an extension which you can easily get from the Chrome app store. The download process is not that complicated and is very easy.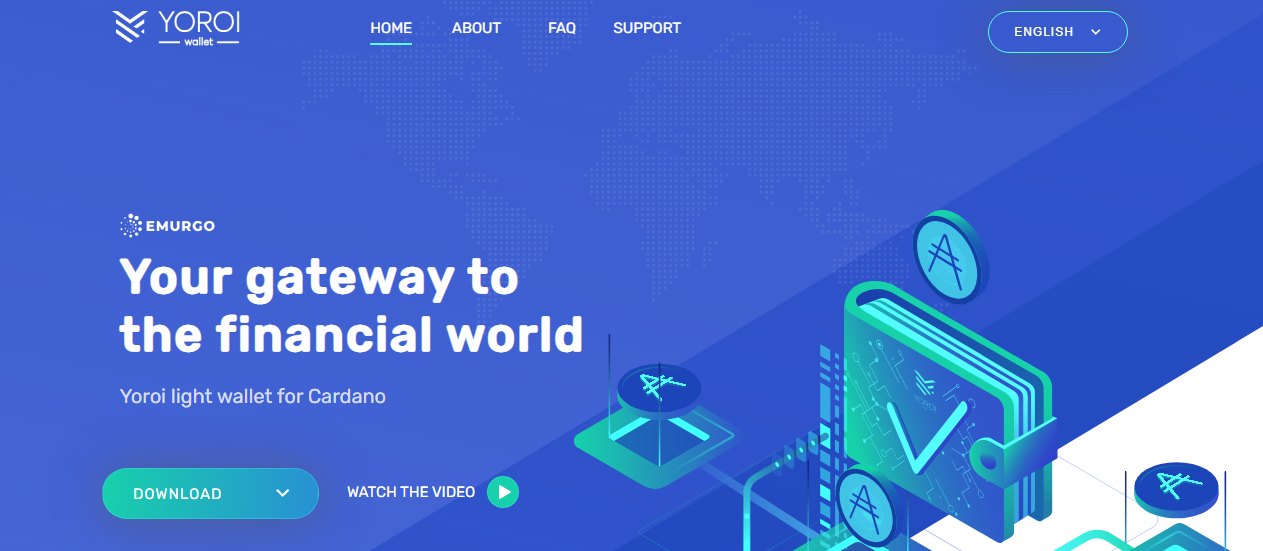 The chrome extension provides a very simple, secure and fast environment for its users to manage all your cardano holdings. The key to making this wallet lightweight is that users don't have to download the entire Blockchain to their computer.
Download the extension and you can perform any transaction by sending and receiving cardano immediately. But since wallets are not that old in the market, so there are possibilities for minor bugs and errors that any user may face.
5. Infinito wallet
The Infinito Wallet is a free universal wallet available on Android and IOS platforms. The wallet is capable of storing all List A cryptocurrencies. Ranging from all ERC20 tokens, NEO NEP-5 tokens to BTC, ETH and finally ADA aka Cardano lease. The company has expanded the list based on market needs and the ranking established by coinmarketcap.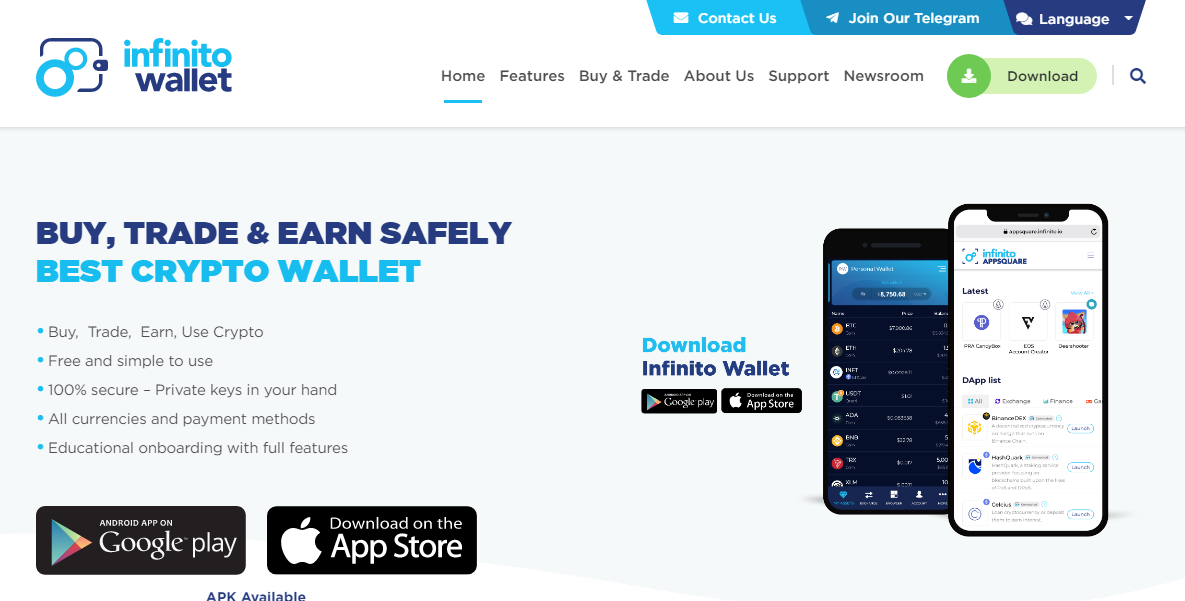 Since the wallet is a mobile application, it provides a very smooth and smooth user interface to its user. Infinito by proving that mobile apps make it easy to access your wallet anytime, anywhere in the world.
When it comes to security concerns, Infinito offers Touch ID support. More than 12 languages ​​are supported on the wallet app.
6. Daedalus wallet
This wallet is the official wallet and supported product by ADA. This is an open source wallet available only for the desktop. The wallet supports Windows, Mac operating systems, and ADA storage provided by the Daedalus wallet itself. Daedalus only participates on the Cardano network and works only on its network.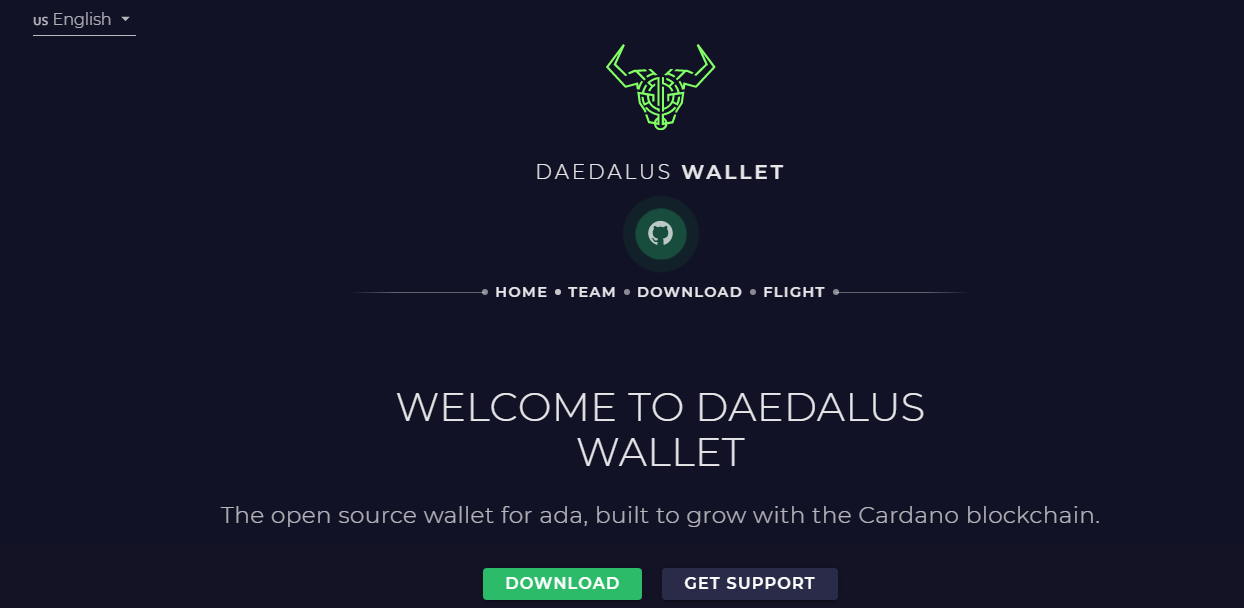 With its Hierarchical Deterministic Portfolio (HD) feature, you can manage as many portfolios as you want and organize your digital assets comprehensively.
The developer team recently claimed that in a future release, developers could expand their app as needed to increase functionality.
Speaking of the downside, the wallet is not available on IOS and Android. The security concerns are lower. All your passwords are protected by advanced cryptography.
7. Guarda wallet
The Guarda wallet is new to the market. While not as popular as hardware wallets, it's worth a try. Known to be a mainstream coin, Guarda wallets give you unlimited support with all tokens and coins related to the bitcoin and Ethereum network.
The Guarda team will be live 24/7 to resolve all your questions and assist you if you have any. The interface is very simple and friendly for beginners. Good security measures are the key feature of this wallet.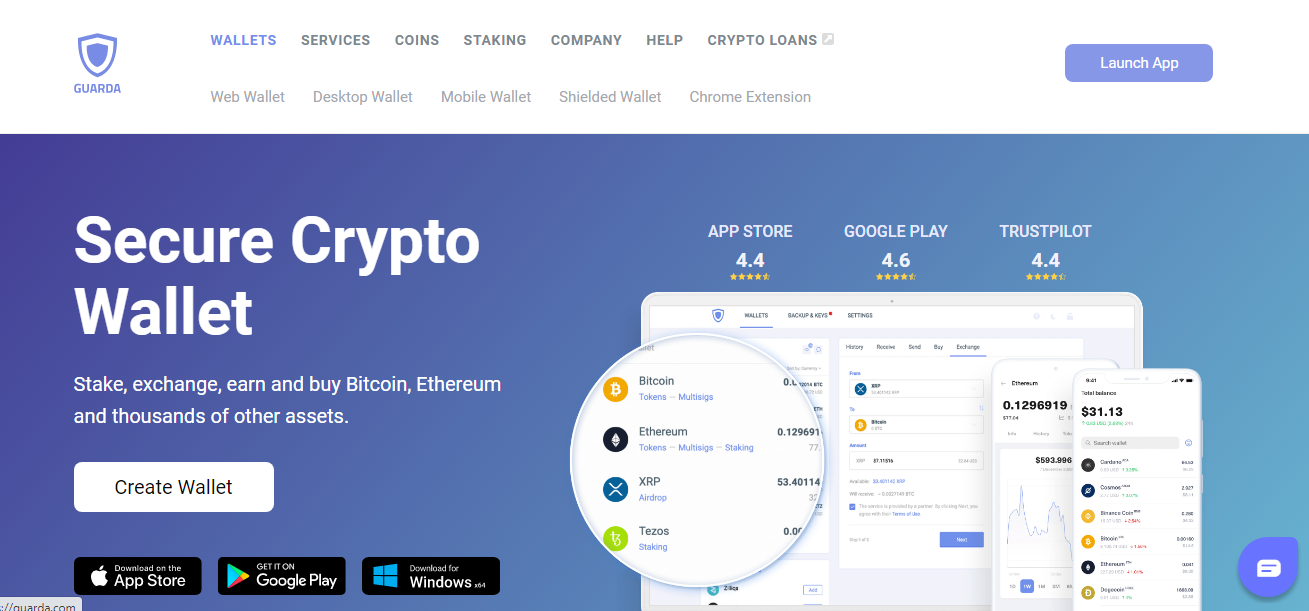 The app is although completely free to download, but there is a certain amount of fee that you have to pay if you use the in-exchange version of the wallet.
The 3.5% fee is high compared to other crypto wallets and this is one of the main flaws of the wallet. Ultimately, if you are looking for the best wallet where you can store your DOT or other cryptocurrencies more securely, you should stop your search. Because after reciting all the right things about this wallet, hopes should be high.
8. Trust portfolio
The motto of this wallet is to make crypto more accessible to the public. The wallet is officially supported by Binance, which means that it is the official product of the Binance group.
The Trusted Wallet is the most popular among traders and especially for those who are more interested in investing Cardano aka ADA. Your search should end with this wallet if you are looking for a most suitable wallet.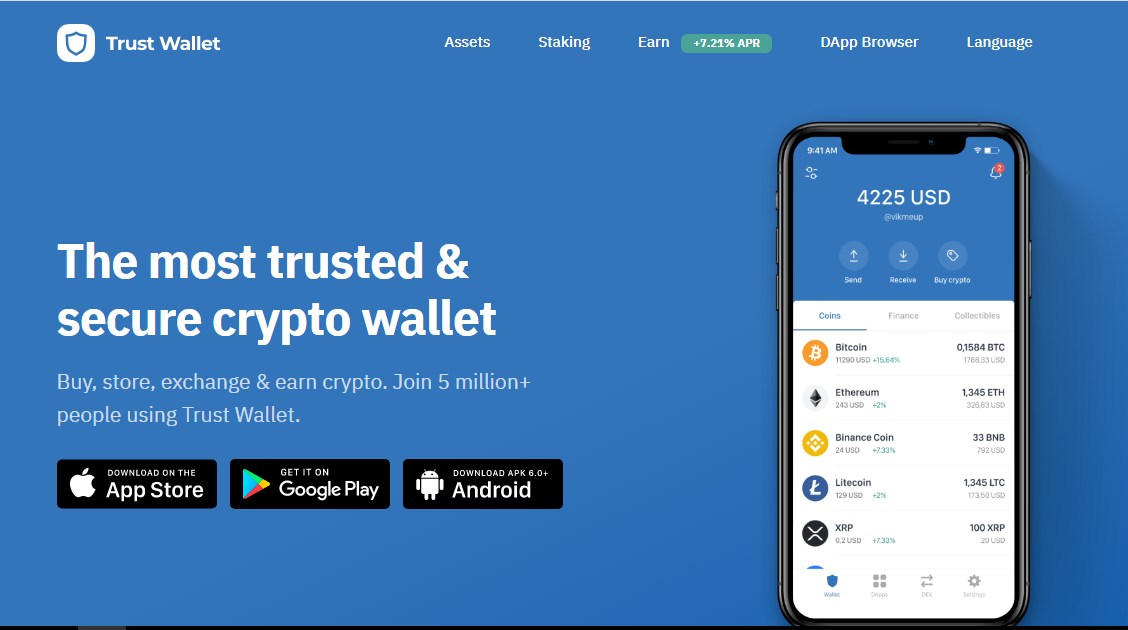 The interface of the wallet is very user-friendly and easy to understand. For them, they always put the user experience at the forefront. There are a lot of features out there and the team is adding more features that can completely change the perspective of decentralized finance.
This means that the wallet supports different coins and tokens on a single platform, namely Ethereum, Bitcoin and of course Cardano.
Frequently asked questions about Cardano
Is Cardano a good investment?
As the crypto market is volatile, experts predict that cardano will hit its all-time high soon enough. Yes cardano is a good long term investment. The coin will rise high and climb to $ 2 by early 2021.
Who owns Cardano?
The founder of Cardano Blockchain is Charles Hoskinson. This is the same man who was the co-founder of Ethereum Blockchain. So expect High!
Conclusion
And There you go. We finish our thinking and present to you our complete list of the best wallets where you store your ADA.
If any of you want the safest option, hardware wallets are the best. Yes they are a bit pricey but worth paying for. On the other hand, you are looking for highly functional wallets, then the Atomic wallet and Daedalus wallet are the best option.
Whatever you choose, be sure to follow Security 101. Make sure your PC is virus free and has antivirus software installed. Still have questions to answer? Comment below and we'll get back to you in a few moments.