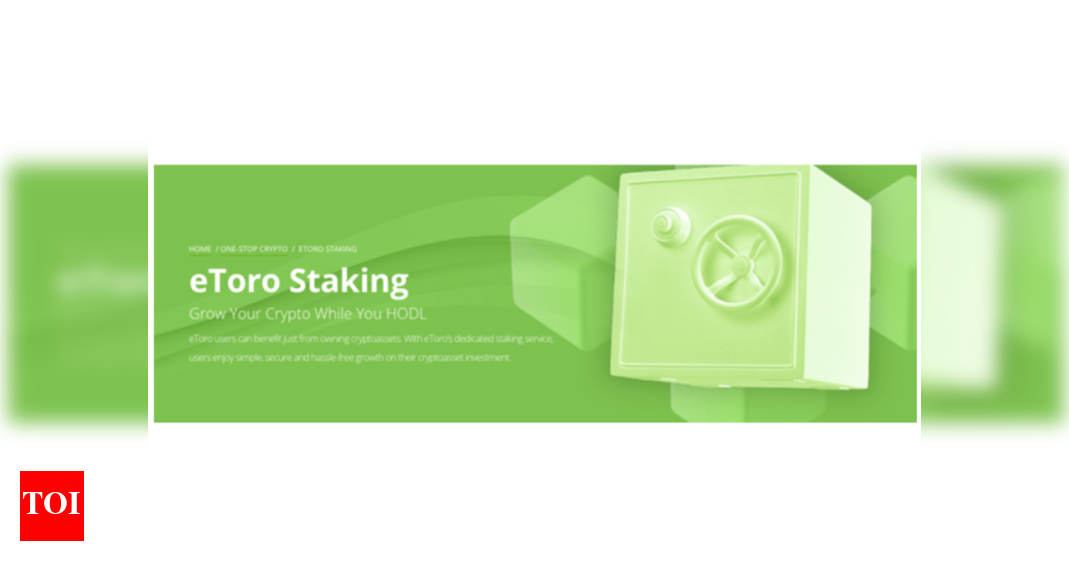 The Best Crypto Staking Platform for 2022
With the growing popularity of Proof-of-stake tokens, crypto staking has attracted more and more attention from investors. As a result, many crypto exchanges offer investors the opportunity to stake crypto. However, how do you know the best crypto-staking platform to invest with?
We have put together a review of the best exchanges for staking crypto. Investors looking to diversify their income streams or take a break from the rigors of trading will find this review exciting to read!
The best crypto-staking platforms in 2022
Choosing the best staking platform is always a good idea. Here are the best crypto-staking platforms we recommend:
AQRU – The best crypto-staking platform with up to 12% interest
eToro – Popular crypto staking platform with copy trading tools
Crypto.com – Trusted crypto-staking platform with up to 14.5% rewards per year
Binance – High liquidity crypto-staking platform
Coinbase – Beginner friendly platform to stake crypto
Best Crypto Staking Platforms Reviewed
Here is an in-depth review of the best platforms for staking crypto:
1. AQRU – The best crypto-staking platform with up to 12% interest
Have you ever wondered why so many crypto traders struggle to generate returns from their cryptocurrency holdings? AQRU was launched by a qualified group of investment, payment and technology professionals.
The cryptocurrency market was created to make financial services accessible to everyone, but it quickly became complex, full of jargon, and inaccessible to average investors. AQRU intends to change this. Providing access to a user-friendly crypto staking platform that allows you to convert fiat to crypto and immediately start earning high returns on your favorite crypto assets. The AQRU accepts individual and corporate traders. For more information on joining AQRU as a corporate client, you can email [email protected]
What are the fees charged by AQRU?
There are no fees for withdrawing funds from the platform in fiat currency. There is a $20 fee for cryptocurrency withdrawals, which is charged in the currency of the asset withdrawn.
As for payment methods, AQRU accepts card payments, bank transfers, and wallet-to-wallet crypto payments (currently supporting BTC, ETH, USDT, USDC, DAI).
Also, there is no minimum withdrawal, provided you cover the fees. The minimum deposit is also low at just €100.
Is the AQRU regulated?
Yes. Accru Finance UAB (company number 305944953) provides virtual asset trading and custody services in accordance with the legal regulations of the Republic of Lithuania. Accru Finance UAB has recently completed all relevant legal standards to act as a Virtual Asset Service Provider (VASP) under Lithuanian law as of January 21, 2022.
AQRU works in partnership with Fireblocks, a leading crypto wallet infrastructure provider, to maintain the best security of crypto assets. This best crypto staking platform also has a $30 million policy if any assets are stolen by hackers. What about crypto staking interest rates?
On stablecoins you will get a fixed interest rate of 12%, 7% on Ethereum and 7% on Bitcoin. You will also be able to make daily deposits and withdrawals of cryptocurrencies and fiat currencies.
Visit the AQRU now
Crypto-assets are a highly volatile unregulated investment product.
2. eToro – Popular crypto-staking platform with copycat trading tools
eToro, established in January 2007, is a well-known online cryptocurrency trader. Low costs and excellent analysis and trading tools set eToro apart from its competitors. It has a CopyTrade tool, which allows you to copy successful trades of highly experienced traders for free. Deposits to eToro are also free, but there is a $5 withdrawal fee. The platform accepts bank transfers, credit/debit cards, and e-wallets like PayPal. The minimum deposit amount on eToro is $10. You can store your crypto in an eToro wallet, which is the platform's hot wallet storage facility.
Staking payouts at eToro are among the largest in the market, starting at 75% of staking yield. To offset operational, technology and legal costs, eToro retains a modest fraction of profits as fees.
Visit eToro now
Crypto-assets are a highly volatile unregulated investment product.
3. Crypto.com – Trusted crypto-staking platform with up to 14.5% rewards per year
Crypto.com is one of the leading crypto exchanges that offers a wide range of services from regular trading and investing, to crypto staking, NFTs, wallets and more. This popular exchange supports over 250 altcoins, has competitive fees, and offers rewards for crypto enthusiasts who hold Crypto.com (CRO) coins. To keep accounts secure, Crypto.com uses a variety of security protocols, including multi-factor authentication (MFA) and whitelisting.
Crypto.com employs rigorous compliance monitoring and maintains customer deposits offline in cold storage in addition to its security procedures. It also works with local banks in the United States to provide FDIC insurance on US currency holdings up to $250,000.
In terms of crypto staking rewards, Crypto.com allows users to earn up to 14.5% per year for stablecoins and 8.5% for BTC and ETH. Moreover, this top crypto staking exchange offers a huge range of supported tokens and coins; 40+ to be precise. There is also a handy crypto staking app that you can download to your mobile device and get your crypto working for you anytime and anywhere.
Visit Crypto.com now
Crypto-assets are a highly volatile unregulated investment product.
How does crypto staking work?
Staking is the next step in the crypto mining process, which makes the blockchain work. Mining is a proof-of-work (PoW) mechanism where the computer that performs a task the fastest (for example, translating a document or adding data to the blockchain) is rewarded with cryptocurrency. This means that every machine on the network is constantly scrambling to complete tasks first, wasting a lot of energy. Staking is done through the Proof of Stake (PoS) algorithm. Blockchain achieves this by designating a machine to perform the task at random.
To wager, you set aside a certain amount of your native blockchain token assets (for example, on the Ethereum blockchain, your ETH), and the amount you wager impacts your chances of receiving the mission. .
You essentially pledge a portion of your wallet to the blockchain as collateral when you stake crypto. This means that part of your wallet has been blocked for a certain period of time. It's still your money if you cancel it, although that might not be possible right now.
You will also need a minimum amount of the native coin to start staking on certain blockchains. You have a better chance of hitting the target if you bet more. You get paid when you complete the staking period, much like mining.
Best Crypto Coins for Staking
1. Ethereum 2.0 (ETH)
Staking rewards on Ethereum range from 5% to 21%, a fairly large percentage. On average, it can provide a strong return on investment (ROI) of around 7.5% every year.
2. Algorand (ALGO)
Depending on the crypto staking platform you use, the staking incentives for this currency range from 5% to 10%.
3. Cosmos (ATOM)
Cosmos is considered one of the best new cryptocurrencies to invest in. It generates an average return of 8-10% for punters.
How to Stake Crypto on AQRU
This section is a step-by-step guide to staking crypto on our best overall crypto staking platform, AQRU: Fund your account – The minimum deposit amount is €100 and you can use card, wire transfer or wallet-to-wallet cryptocurrency payments. Deposit or invest in cryptos – Buy cryptocurrencies such as Ether, Bitcoin or several stablecoins. These are the assets that investors can stake on AQRU. Stake your asset – If you place funds in BTC, ETH, or any of the supported stablecoins, you will start earning annual rewards of 7% and 12% APY respectively. Start Crypto Staking on AQRU
Crypto-assets are a highly volatile unregulated investment product.
The above content is non-editorial and TIL hereby disclaims all warranties, express or implied, in connection therewith. TIL does not necessarily guarantee, endorse or approve any of the above content, and is not responsible for it in any way. Crypto products and NFTs are unregulated and can be very risky. There can be no regulatory recourse for any loss resulting from such transactions. The article does not constitute investment advice. Please take all necessary measures to ensure that the information and content provided is correct, updated and verified.
Disclaimer: Content Produced by CryptoPR