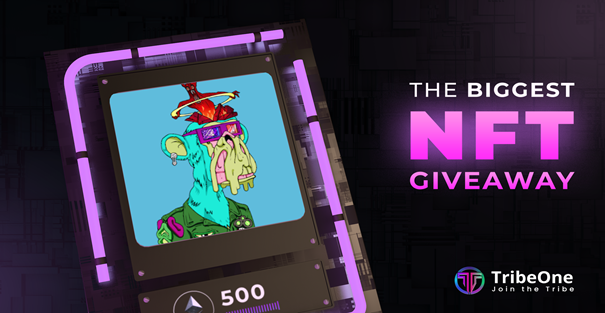 TribeOne Hosts Crypto's Biggest NFT Giveaway
TribeOne, the world's first AI-powered DeFi and NFT funding platform, is hosting a special "The Biggest NFT Giveaway" event where they will be giving away one NFT from the hugely popular Mutant Ape Yacht Club collection. Users can enter the contest by placing loan requests for an NFT of their choice on TribeOne's dApp.
What is TribeOne?
In addition to hosting Crypto's biggest NFT giveaway, TribeOne offers lending solutions to DeFi users to help them participate in the NFT space.
The NFT market is a billion dollar market and is growing at a rapid pace as more creators, traders and collectors enter it. A platform for users to purchase NFTs by providing financing solutions, TribeOne aims to make the NFT space more accessible. To this end, they are collaborating with NFT marketplaces and expanding their NFT offerings.
Through TribeOne, users can avail financial solutions for over 80 million NFTs listed on the OpenSea Marketplace with a 25% down payment and customized repayment schedules of up to 12 monthly installments. The host of Crypto's biggest NFT giveaway, TribeOne's native $HAKA token can be used to pay installments and also staked on various platforms for additional benefits.
The platform also addresses the difficulties associated with NFT lending services and their new dApp promises a polished experience for investors looking for easy access to a variety of NFTs. Along with custom lending options, TribeOne's dApp also enables crypto revenue generation via NFT rollover, allowing users to take long NFT positions and self-liquidate, a unique withdrawal-based process. payment of the full amount of their loan and setting up the NFT returns to its home market for sale – profit resulting from future price increases of the NFT.
How to participate in Crypto's Biggest NFT Giveaway by TribeOne?
Mutant Ape Yacht Club Collection contains Ape NFTs similar to Bored Ape Yacht Club Apes, but with a zombie-like mutant theme. Holders of the original 10,000 BAYC NFTs received a vial of mutant serum that allows BAYC NFT holders to "evolve" their bored monkeys into mutant monkeys.
Bored Ape Yacht Club Collection is among the most prestigious NFT collections in the world. Many celebrities own BAYC Collection NFTs, ranging from NBA players like Stephen Curry, Mark Cuban, and Shaquille O'Neil to famous musicians like DJ Khaled, Post Malone, and Snoop Dogg.
Host of Crypto's Biggest NFT Giveaway, TribeOne will reward one lucky participant with an NFT from MAYC Collection.
"To express our gratitude to our community for their support, we are hosting the most sensational giveaway in crypto history and giving away a Mutant Ape NFT as a reward to our community," says Mehdi Suleman, CEO of TribeOne.
To participate, users must follow the steps below:
Apply for a loan on an NFT of your choice, using the "import feature" on app.tribeone.io
Tweet a screenshot of your loan portfolio with the hashtag #TribegoesApe, tagging @tribeonedefi – and be sure to include your wallet address!
One winner will be randomly selected from all entries received and will be awarded a Mutant Ape Yacht Club NFT.
TribeOne is the world's first decentralized finance platform powered by AI and backed by RAROC (Risk-Adjusted Returns On Crypto) technology. TribeOne is an NFT, Lending, Borrowing, Savings and Credit Risk platform that provides a seamless experience; to all users through its innovative consumer-centric products. The platform will break down the barriers of the traditional financial ecosystem and revolutionize the DeFi sphere as a whole. Provide the community with a platform to lend, borrow and invest in crypto assets and NFTs. Therefore, providing an unconventional experience for all.